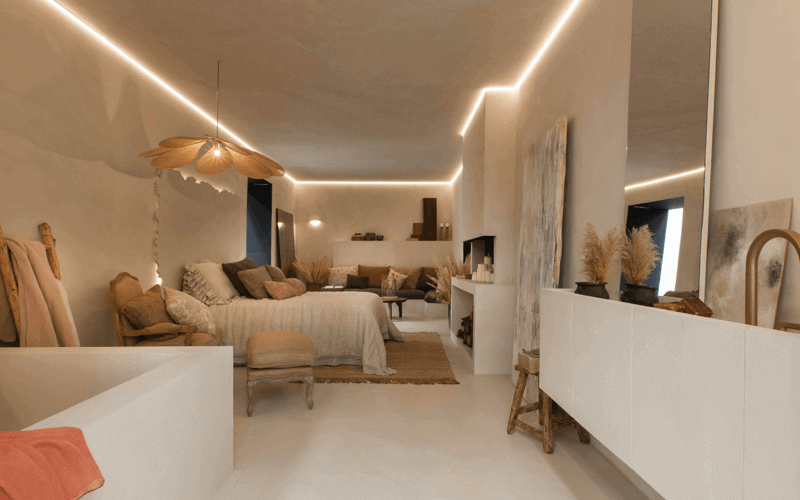 In Homecret we are the spanish leaders in resurfacing microcement and micro-concrete floors, walls, stairs, walls, bathrooms… We have a specialized department in microcement projects to transform your ideas into designs, with form and meaning. Our knowledge of more than 10 years of experience in this field, makes us one of the national companies with more experience, expertise and quality.
Homecret consists of a network of professionals who meet any challenge as difficult as it seems. At Homecret we are committed to quality and respect for the environment.
In 2015, as a result of our innovative vocation, we opened our showroom in the center of Madrid, more than 80 m2 dedicated to different techniques and different microcements colours and wax concrete.
Microcement is a versatile, modern material rapid application and release to walk traffic, which lets you create original spaces where your imagination is the limit of our designs.
You can learn more about this material, its uses and benefits in our section on microcement.
In Homecret we offer the best microcement kits together with the experience and professionalism of the people responsible behind each work.
With this combination we have earned the reputation and confidence to position ourselves as a leader in this sector.
Encuentranos en:
Av. de Bruselas
28108
Madrid (Madrid) España
911 26 80 30
Estadísticas
Visitas hoy

1

Visitas mes

32

Visitas totales

89

Seguidores

0

Shares

0

Aquí desde

24/11/21
Estadísticas
Visitas hoy

1

Visitas mes

32

Visitas totales

89

Seguidores

0

Shares

0

Aquí desde

24/11/21