The Map of Entrepreneurship Entities and Services
Support for entrepreneurship, creation and growth of companies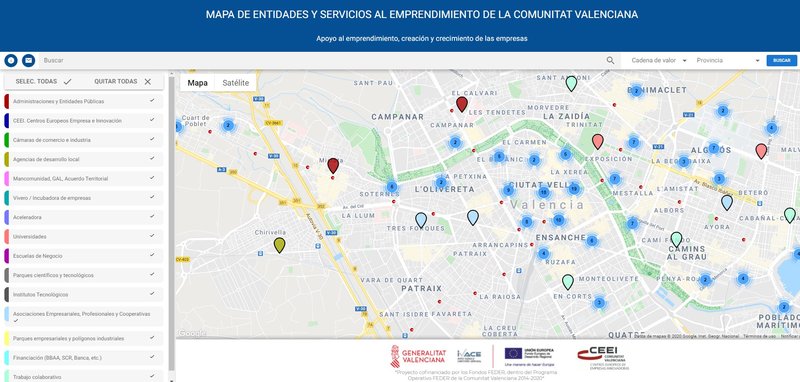 Mapa del Ecosistema de Emprendimiento
THE MAP OF INNOVATIVE ENTREPRENEURSHIP
The Map of Entities and Services in support of entrepreneurship places on the map the set of Entities and Services that mainly, in the area of ​​the Comunitat Valenciana, support innovative entrepreneurship throughout the "Chain of Value", covering services ranging from motivation and creation of business vocations, to innovation, internationalization and business growth.
THE VALUE CHAIN
The map of the enterprise includes Entities that offer and provide services at least in one of the links of the "Value chain" of the innovative entrepreneurship sector.
The "Value Chain" has been structured and deployed in three links:
Motivation
Business creation and
Consolidation and growth of companies
At the same time, these areas of the value chain have been broken down into a total of 15 capacities:
Motivation

Dynamization
Idea / Project

Creation of companies

Business models
Marketing / Markets
Business Plan / Feasibility Analysis
Grants
Procedures (legal, labor and tax)
Financing
Industrial and intellectual property (Patents and Trademarks)
Infrastructures / Spaces available

Consolidation and growth

Financing
Internationalization
Grants
Innovation
Business management
SERVICES
The Entrepreneurship Map includes the different levels of services that may require a venture in the different stages of an entrepeneur's project, ranging from the most superficial to the most intense level of advice, through:
Information
Orientation-Tools
Training
Advice
Expert Advice
Services that can be implemented and impart in person or in a virtual way through systems such as telephone, email or internet.