Erasmus+ KA2 Project: Ready to get funded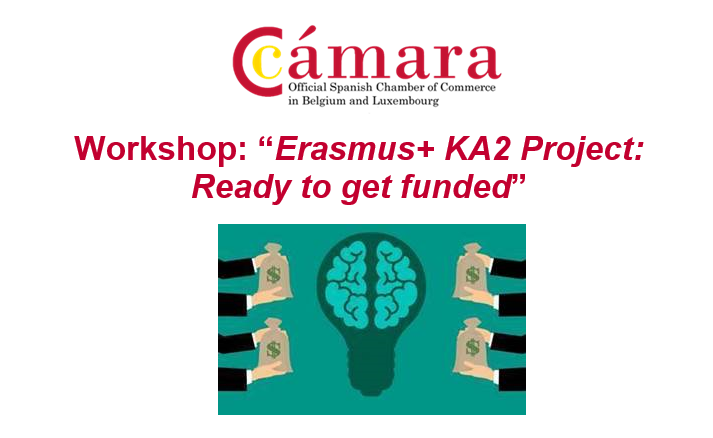 November 24th and 25th 2020
Comienzo: el martes, 24 de noviembre de 2020 a las 09:00
Finaliza: el miércoles, 25 de noviembre de 2020 a las 11:00
Brussels
Rue Belliard 20 – 1, 1040
On November 24th and 25th, the Official Spanish Chamber of Commerce Belgium and Luxembourg, will organize in Brussels a workshop on "Erasmus+ KA2 Project: Ready to get funded", held by the business developer at CWC Consulting and EU project writer Paloma Cantero, member of the EmprendeBeLux program.
The workshop will enable professionals to better comprehend the Erasmus+ program and the different funding opportunities within it. Specifically, the training will focus on the Key Action 2 and will consist in reviewing from a practical perspective the whole project application cycle: from getting an IOD number till all tips, tricks and best practices to successfully draft and submit a project proposal.
MENTOR: Paloma Cantero - Business developer at CWC Consulting and EU project writer.
PROGRAM
November 24th 2020
• Erasmus+. Goals, priorities, actions.
• KA2 overview
• Aims, priorities, funding opportunities
• Innovation & exchange of best practices
• How to start?
• Getting an IOD: Procedure & Needed Materials
• The project form application
• Project cycle
November 25th 2020
• Getting practical. TIPS & TRICKS for successful project writing
• Context
• Participating Organizations
• Project Description
• Preparation
• Management
• Implementation
• Intellectual Outputs
• Multiplier Events
• Learning Teaching Training
• Timetable
• Special Costs
• Follow-up
• Budget Summary
• Project Summary
• Annexes
• Checklist

REGISTRATION
To participate in the event it will be necessary to complete the attached registration form.