EU-funded project LEAPWind successfully tackles offshore blade erosion
Publicado el miércoles, 16 de diciembre de 2020 a las 12:22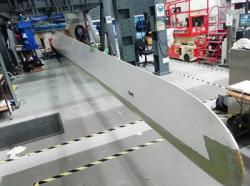 Whilst offshore wind technology continues to evolve and gain in efficiency, blade erosion has become a key challenge in order to remove market barriers for the blue economy.
The EU-funded project LEAPWind has been developed around three main objectives:  firstly, using a new commercial leading-edge blade component with novel thermoplastic materials and innovative manufacturing processes to prevent blade erosion already at the manufacturing stage. Secondly, the more robust blades are meant then to increase the energy productivity of turbines, and finally, the use of those novel blades will also reduce high maintenance and repair costs. Operational tests are ongoing on an existing wind turbine in Portugal.
The project is supported by the European Maritime and Fisheries Fund (EMFF) and implemented through a pan-European collaboration between the Irish company ÉireComposite, the Dutch company Suzlon, and the National University of Ireland Galway. LEAPWind  represents  a successful example of how the use of new technologies can scale up the blue economy sector, whilst supporting the EU's transition to a low-carbon future.